Categories: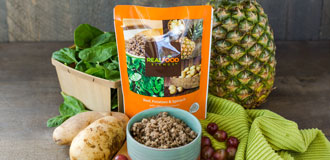 First, thank you all for your patience as we made more meals.  The initial response was so overwhelming, and shows what a need there is in our tube-fed community for easy access to real food.
The meals are being produced on May 20th and will start to ship later that week. All backorders will be fulfilled first! If you want to receive your meals this month, please order now as  any order placed after May 15th will not ship until early June.  (This is because the long-distance carriers that are moving our meals from the manufacturer to the fulfillment center needs time to travel!)
Save on shipping
Because you have all been so patient with us, we're extending the $9.95 flat rate shipping on all backorders. If you order before May 15th, your entire order will ship for only $9.95. Our meals are shelf-stable for 3 years, so stock up!(There is no limit on how much you can order this time!)
Changes
Although the response to our meals was overwhelmingly positive, we did alter the quinoa version s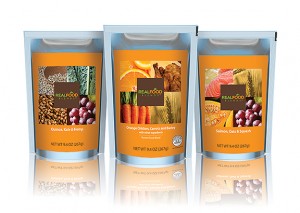 lightly to make the blend a little thinner.  The chicken blend has a slight change to the nutrition profile from the first batch as well due to sourcing a different cut of chicken (to help avoid any particulant matter that could clog a tube.) Salmon meals have remained unchanged.
You will notice that the meals will not have the outer box / carton. We wanted to cut down on our carbon footprint and shipping weights, so all the information is printed directly on the pouches.
Insurance Update
I know many of you are eager to have insurance billed for these meals. Please know we are working on it and dedicating every free moment to establishing the necessary relationships with DMEs and distributors that supply hospitals, institutions and DMEs with enteral nutrition. These talks are going very well, but take time. For more information about getting insurance coverage and reimbursement, click here.  Make sure you are signed up for our emails in order to be notified as we start to partner with DMEs to bill your insurer directly.
So much of our early success is due to our customers sharing our meals with other caregivers, tube-fed people and their medical teams.  Although real food as an option for tube-feeding is growing in popularity, we still need your help getting the word out that real food is a viable option for many on tubes, and that our meals can make it easier than every before.