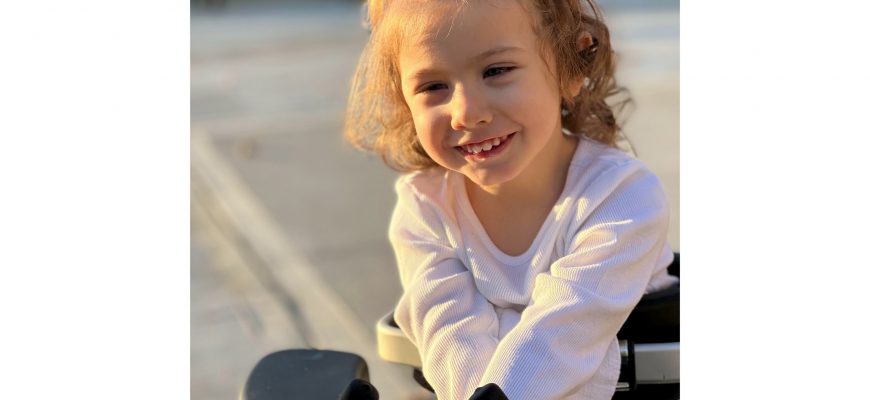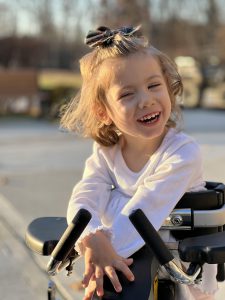 My daughter Caroline is a bright and smiley 3 year old who loves to play! She is a very active child but things haven't always been this way. Caroline suffered severe oxygen deprivation known as Hypoxic Ischemic Encephalopathy during labor resulting in a brain injury that left her unable to coordinate oral movements necessary to drink from a bottle. She started with an NG tube at birth and had her G-Tube placed while she was recovering from her brain injury in the NICU at only 2 months old.
The NICU was the beginning of a long journey trying to find the right nutrition for our daughter. Soon after our daughter was born, we noticed that tube feeding times were very stressful and uncomfortable for Caroline and she was struggling to keep her food down. We tried one commercial formula after another, hoping to provide relief to our daughter, but none worked. She was incredibly uncomfortable and unable to keep food down. Reflux and tummy troubles ruled her life and ours.
Out of desperation, I scoured the internet and discovered parent forums discussing Real Food Blends as an option for kids like Caroline. As I read, I knew we needed to give it a try. I contacted her dietitian who ordered some samples for us to try over the course of a couple weeks. We created a feeding schedule, started Real Food Blends and sure enough, life for Caroline started to get a whole lot better.
As she transitioned onto Real Food Blends, we noticed a significant shift in our daughter's comfort levels. She was finally able to relax and take a full feed without losing any food. Her growth became more stable and feeds changed from a time of high stress to a time of comfort. This newfound comfort opened the door to new opportunities which seemed impossible before starting Real Food Blends. She began to tolerate therapy, sleep, car rides, stroller rides and play time in a way that she never had before.
Now that we are able to get out of the house more without concerns of tummy troubles striking, I bring her food everywhere we go. We are a very active family so having her food conveniently packaged helps a ton. We use a combination of pump feeding and bolus syringe feeding with Caroline's Real Food Blends, which has worked beautifully for our family.
As a mother, it means the world to me to know that my child is receiving high quality nutrition every day. I love being able to mix up the different flavors and talk with her about what she's having for the day! For example, it was so fun to be able to give her the turkey flavor on Thanksgiving. I know it might seem like a small detail, but it opened a door for Caroline to relate to her peers. Her cousins and friends had a turkey dinner for Thanksgiving and so did Caroline!
Caroline has been on Real Food Blends for a year and a half now and we have never looked back. It has truly changed her life for the better and we couldn't be more thankful that something like this exists as an option for families like ours.
– Lauren
*I was paid by Nutricia for my time to write this blog post, however my opinions are my own*
This is one mom's experience with Real Food Blends and may not be the experience of others. Individual results may vary.