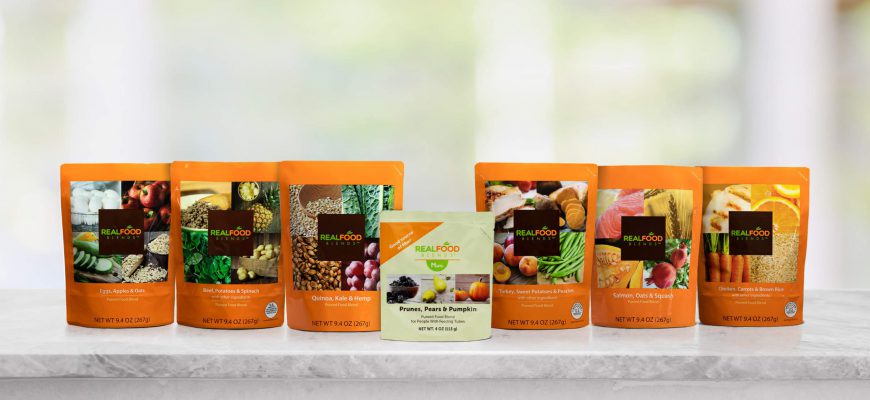 You may have heard that Lyons Magnus announced that, following continued collaboration and consultation with the U.S. Food and Drug Administration, it has expanded its voluntary recall of nutritional and beverage products due to illness concerns. This recall encompassed formulas for patients with feeding tubes, such as Ensure Harvest™ and PediaSure Harvest™ from Abbott, as well as multiple products from Kate Farms®.
You can read more about the Magnus announcement by following this link here.
Nutricia products, including Real Food Blends®, are not involved in the Lyons Magnus recall.
Real Food Blends products remain safe options to provide real food and nutritional variety to people with feeding tubes, as recommended by a healthcare professional. At Real Food Blends, our mission is to bring true blenderized diet to as many people with feeding tubes as possible.
Real Food Blends meals & snack provide nutritional variety from real food ingredients across our six meals and one snack.
Transitioning to Real Food Blends
If your current product is on the recall mentioned above and you are looking to transition to Real Food Blends products , please speak with your healthcare provider to determine if Real Food Blends would be a good fit for you or your loved one.
REAL FOOD BLENDS Products:
Blenderized meals for people with feeding tubes
Can be used for children and adults
Real Food Blends meals & snack can be used as bolus, pump or gravity feeding with 14Fr G-Tube or larger (if consistency with gravity or pump feeding is a concern, dilute with fluids).
Real Food Blends is made from whole food and therefore the consistency might vary. Real Food Blends is thicker than your traditional tube feeding formula. This is intentional, as having a thicker consistency may allow for better GI tolerance. Read more tips on transitioning to Real Food Blends from your current formula.
Speak with your healthcare provider to determine if Real Food Blends would be a good fit for you or your loved one.
Ask your provider to order you a free sample, or purchase our trial kit. (1 of each of our meals, 6 meals total)
Need assistance covering cost of Real Food Blends?
Navigating insurance landscape can be challenging. That is why we created Nutricia Navigator. Our Navigator experts will provide personalized  one-on-one support to help guide you through the complexities of product coverage.
As a Real Food Blends customer you have access to Nutricia Navigator, our reimbursement assistance program, for personalized support to help you navigate the complexity of insurance coverage. Our experts are available to help with questions.
To get started with our Navigator team:
Please visit Nutricia Navigator to read all of the details!
Call (800) 365-7354 9:00am – 6:00pm ET Monday-Friday
Email Navigator@Nutricia.com