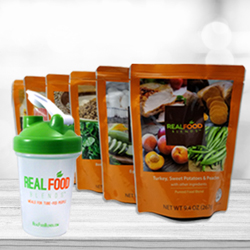 Thank you all for your patience and words of encouragement to help us bring Real Food Blends to this point. I am so happy to announce that the store is now open and accepting orders at RealFoodBlends.com.   And as a mom of a tube-fed kiddo, I can't tell you how happy I am to be able to provide these meals to all of you.
A few important tidbits for you to know:
–       Shipping: Orders will ship in 3-4 days, we can only ship in the United States for now and your entire order will ship for just $8.
–       Order Limits: We have limited each order to 2 cases of each variety (so 4 total cases now).  I wish we could send everyone as much as they want right away, but as a new company, this is our first  production run and we want to make sure as many people as possible can start enjoying our meals. As we gather feedback from each of you, we will move forward on to full scale production. (Remember, the meals are shelf-stable for 3 years!)
–       About the Chicken meal: UPDATE 2/5/14 You can now reserve 2 cases of the chicken meals. These will be sent to you by March 15th – still a flat rate of $8 for shipping on your entire order! [The chicken meal will not be available for purchase for a couple more weeks. (Long story short: USDA approval on the packaging took a long time!  Everything is approved now and printing of the cartons will happen next week.)]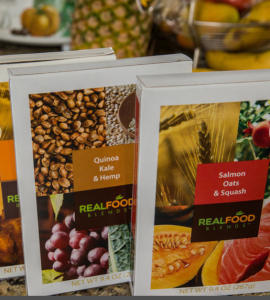 –       More coming! We have already scheduled our next production run, but it will take us at least 10-12 weeks before we can start shipping more meals.  We are working as hard as possible to estimate demand, but we do expect to sell out of our meals quickly and there will be a delay before more meals are available.  Thanks in advance for your continued patience and support as we move toward full-scale production.
A few people have asked about the delay from when we had the meals made to actually being able to open the store.  Our meals were made at an FDA & USDA regulated facility and we felt it safest to then ship the meals to food-grade fulfillment centers to be packed and shipped to customers.  Believe me, I would have turned the store on, piled them in my garage and packed the boxes myself if I could have!!
Again, thank again for your support.   After we deliver these first meals, we'll be moving quickly to full-scale production and we're excited to be able to have these readily available to all of you. We look forward to getting your feedback.  Please stay tuned to email and social media, where we'll keep you in the loop every step of the way.
Thanks and enjoy!
Julie Bombacino
PS – If you want to see our meals in action, this video shows me feeding my son AJ, our Chief Inspiration Officer,  the quinoa, kale & hemp meal: