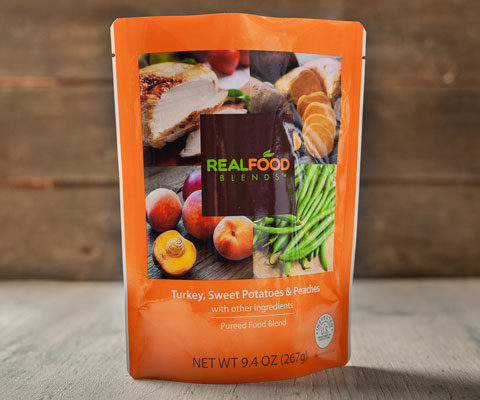 Thanksgiving – and the holidays for that matter – can be especially hard on tube-fed people and their families as everyone else is focused on FOOD!   We firmly believe that if you are tube-fed and  able to digest real food, there's no need for them to miss out on Thanksgiving dinner. We've put together this quick & easy Thanksgiving dinner blend recipe to so your tube-fed loved one can participate in the meal too. Pull up a seat to that table & open up the tube!
For this recipe, we used one cup each of
Turkey (take the skin off if you don't have a very powerful blender)
Mashed Potatoes
Stuffing
Cranberries
Green Beans
And two cups of whole milk. (You can use any liquid you want, we used milk for the calories & since most people have on hand.)
Put turkey and some milk into the blender and let 'er rip.
Add the rest of the ingredients in order, and the rest of the milk. Puree until smooth. The blend should be plenty pourable and easy to bolus feed.
Don't forget to save the turkey bones for bone broth for blending!
Couple of notes:
Notice we didn't use a Vitamix or Blendtec. We wanted to make sure that a typical kitchen blender could blend well enough to fit through a regular feeding tube. (We tested on a 14 fr with no problem but recommend straining to make 100% sure you don't clog the tube.)
This is not medical advice or a recommendation.  If you or your tubie have never had real food, Thanksgiving might not be the best day to try it.
Use safe kitchen handling practices. Don't use any food that's been setting out for too long or leave the food out for too long after blending. If you wouldn't eat it, don't blend it.
Finally, although we firmly believe counting calories on Thanksgiving is un-American, here is the basic nutrition information & recipe we used. If you need more fat, throw in some gravy or butter or olive oil – or use the green bean casserole vs. plain green beans.  More protein? Throw in more turkey. The recipe yields 40 ounces – about 5 – 8 ounce servings – enjoy the leftovers too!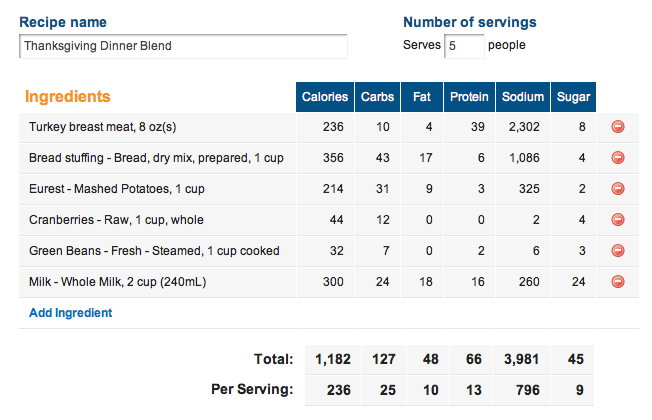 (Yes, we realize encouraging fresh blending might mean we sell a few less of our meals but we believe there are times that the psychological benefit to sharing a meal with family and friends far outweighs the importance of our bottom line.  We hope all our tubies can enjoy Thanksgiving meal with their families!) Finally – pick up a shirt to show your support for #turkeyfortubies:
Enjoy! You've earned a tee shirt: