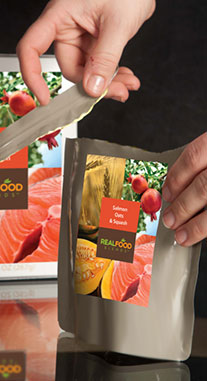 Using Real Food Blends meals is as easy as 1, 2, 3:
It's that simple! The gusset on the bottom of our pouches keep the pouch upright for less mess as you're feeding. We recommend "Squirrel Syringes" – 60 cc O-ring syringes for easiest bolus feeding.
For those that are used to using formula and a pump or gravity bag, you will find that our meals are much thicker and need to be bolus fed with a syringe (we think the thickness is part of the reason that blended diets tend to 'sit better' in the stomach.) You are more than welcome to customize the meals by adding water, coconut water, milk / milk substitutes, bone broth or juice if you'd prefer a thinner blend. After opening one of our pouches, you'll notice there's room to add in a few ounces of your preferred liquid into the pouch – less mess & less dishes!